Blue Lace Agate Properties & Meaning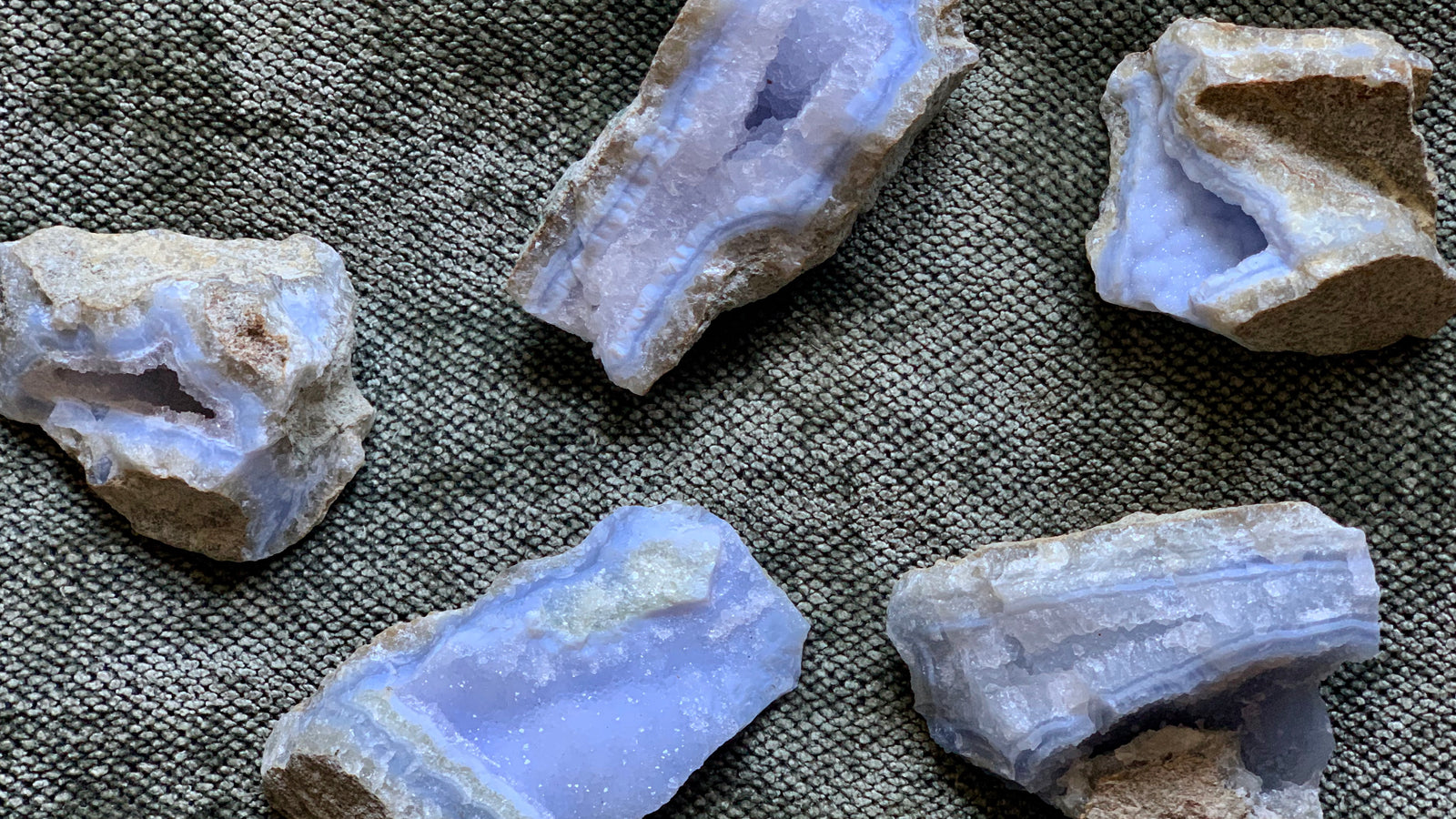 Introduction to Blue Lace Agate
Blue Lace Agate (AKA Blue Chalcedony) is generally found in a beautiful light blue color, often with striped looking layers - similar to other types of Agate.
This mineral is associated with the Quartz family. The crystals Sparkle Rock Pop has sourced are mined in Malawi, Africa**.
Agate is useful for both Gemini and Pisces. Its connection to the throat chakra brings communication enhancing properties to help both signs clearly and effectively communicate.
**Sparkle Rock Pop prides itself on not handling any conflict or fake minerals. We have chosen to only work with select brokers that only work with ethically conscious specimen miners.
Blue Lace Agate Meaning
Blue Lace Agate brings the chill. It has peaceful energy to help ease anxiety, stress, and negative self-talk.
Imagine your nerves or bad thoughts leaving you. Imagine filling that space with confidence to share your thoughts, ideas, and TRUTH. Imagine bringing joy and calming nature back into your life.
This sparkly blue crystal is all about inner tranquility and finding your inner voice.
Blue Lace Agate Properties
Crystals have energies (and magic!) that come directly from the earth. You can use these stones as generators or tools that help you remind yourself about something you've been wanting or working on.
Once you get your Blue Lace Agate, give it an intention. Program it to remind yourself about something you've been wanting or working on (ex. increase calmer energy, work on patience, protect against negative vibes, etc.). Then - find it a happy home. This could be somewhere like your work desk, bedside, dresser, closet, under the couch, etc. I like to place it somewhere that I pass by frequently so I can remind myself of what I'm trying to work on.
When you want to amplify your intention - hold it close to your heart or place it in front of you when you meditate.
You can also hold it in your hands and focus on your breath while thinking of your emotional goals. It can bring serenity to help you understand yourself, and ground you for making changes. Afterward, keep this stone somewhere special.
Want some Blue Lace Agate in your life? Shop the stone HERE!
Think of the "Intro to Wellness" blog series as a beginner's guide to wellness and holistic ideas. We'll be teaching you things like… how to use crystals to your benefit, how to cleanse a person with sage, how to build a crystal grid, how to use self-care tools to decrease stress, etc. This series is all about helping wellness newbies become wellness pros!
Leave a comment
Comments will be approved before showing up.