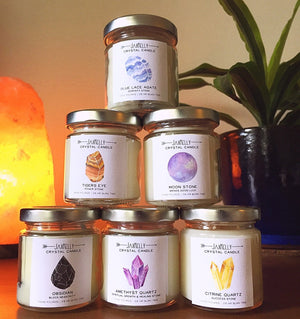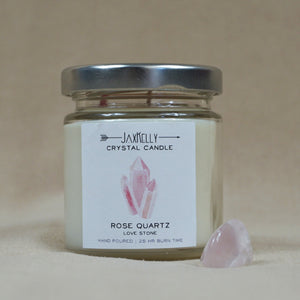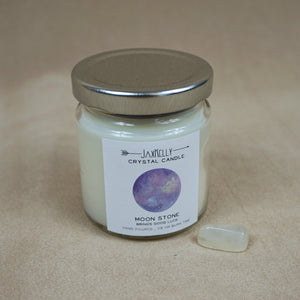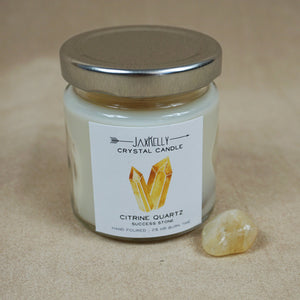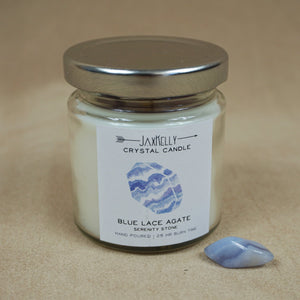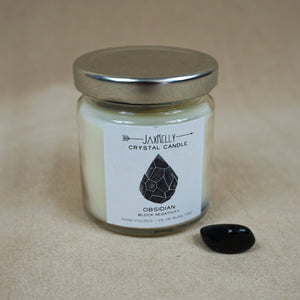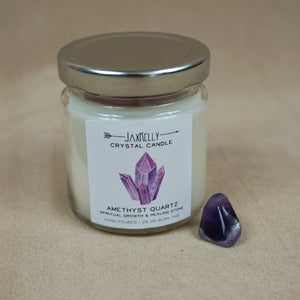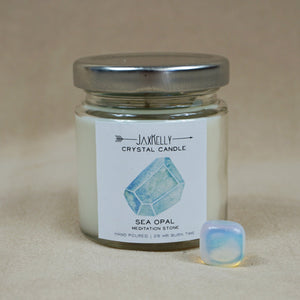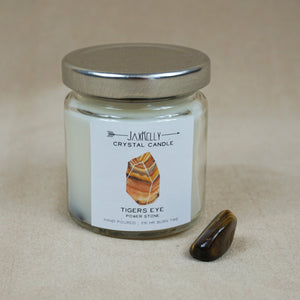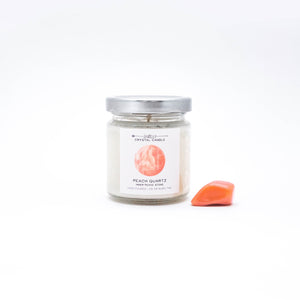 Home + Decor + Cleansing Tools
Crystal Candles (multi options)
Inside each of these candles, you will find a hidden crystal!
Burn your candle to retrieve your crystal and then place it in your pocket, garden, under your pillow or simply add it to your crystal collection.
Each of these candles and crystals has special and unique healing properties and they have been matched up perfectly so their properties can powerfully illuminate. 
These candles have been hand poured and are made of high-quality American grown soy wax, cotton core wicks, & phthalate-free fragrance oils. They are also lead-free.
It's the perfect gift for yourself or someone you've been thinking about <3
Amethyst Quartz - Spiritual Growth & Healing - You're a ray of light, shine bright! Smells like: Lavender 
Blue Lace Agate - Serenity Stone - Need some inner tranquility? Light, be calm and carry on. Smells like: Gardenia 
Citrine Quartz - Success Stone - Citrine Quartz is the stone for positive energy and success. You've got this! Smells like: Grapefruit with hints of fresh Peach
Dalmatian Jasper - Balance - Dalmatian Jasper is known to help keep you grounded and balanced. Smells like: notes of White Tea leaves and fresh Jasmine flowers
Moon Stone - Stone of Protection - A stone of protection, intuition & feminine energy. Smells like: Midnight Jasmine
Obsidian - Blocks Negativity - Obsidian is your go-to for blocking negative energy. Positive vibes only, please! Smells like: So fresh & so clean
Peach Quartz - Inner Peace - Peach Quartz radiates peaceful vibes, so you may evoke your spiritual calm. Smells like: notes of sweet peach and fresh lavender.
Rose Quartz - Love Stone - A gem for unconditional love. Love and be loved. Smells like: a little clean + a little earthy+ + a little romantic scent
Sea Opal - Meditation Stone - Inhale, exhale, just breathe. Smells like: Crisp clean + Fresh scent infused with Lemon & Grapefruit 
Tigers Eye - Power Stone - You've got the eye of the tiger. Awaken your inner warrior & you'll be unstoppable. Smells like: Oak Moss + Amber
---