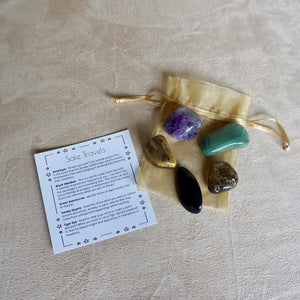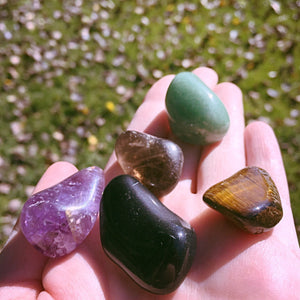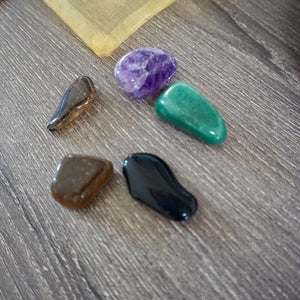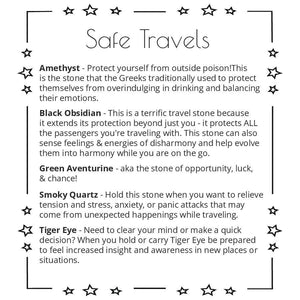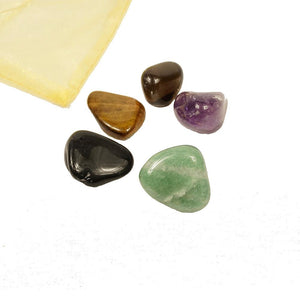 Safe Travels Stone Set
Whether it's exploring your own backyard, checking places off your bucket list, or traveling for work it's important to bring good energy with you… wherever you go!
Here is a breakdown of the stones we have curated for this special set!
Amethyst - Amethyst was traditionally used by the Greeks to protect themselves from overindulging, assisting with visualization, and balancing their emotions. This stone will help keep you sane while you're outside of your comfort zone. We consider this a must-have.

Black Obsidian - This is a terrific travel stone because it extends its protection beyond just you - it protects ALL the passengers you're traveling with. This stone can also sense feelings & energies of disharmony and help evolve them into harmony while you are on the go.

Green Aventurine - aka the stone of opportunity, luck, & chance! Sounds like a winning combination for anyone traveling!

Smoky Quartz - Hold this stone when you want to relieve tension and stress, anxiety, or panic attacks that may come from unexpected happenings while traveling. Allow this stone to dissolve the negative feelings or energy so you can focus on the joys of living!  

Tiger Eye - Need to clear your mind or make a quick decision? When you hold or carry Tiger Eye be prepared to feel increased insight and awareness in new places or situations. This can be extremely helpful in unknown places and when dealing with strangers.
*this stone set comes with an info card that describes these crystals & their meaning
---