Advice from a Goddess: Neghar Fonooni, Tarot Reader + Life/Mindset Coach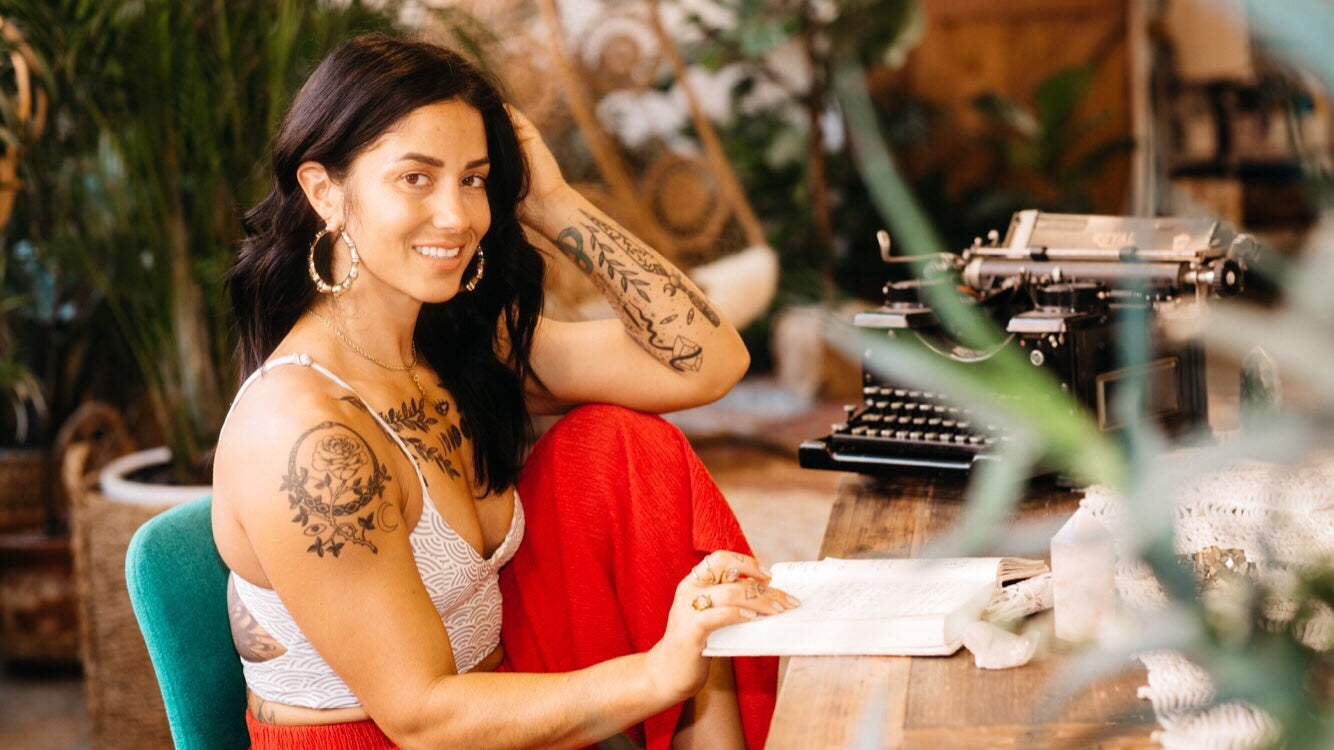 Tarot cards are something I've always wanted to learn more about. Years back, I bought a deck, occasionally pulled some cards when I felt drawn to it or when my girlfriends wanted to pull some on wine nights, but that's about the extent of my experience with cards. 
As soon as I started thinking about what Goddesses would be great for this kind of feature - Tarot Reader instantly came to mind. I would finally get to learn more about this special intuitive practice and from a Goddess nevertheless! 
Neghar Fonooni came highly recommended, and now I know why. A lightworker of many skills, she is a writer, intersectional feminist, entrepreneur, life/mindset coach, mom, and a TAROT READER. 
This woman is on a mission, and I dig it.
Without further ado... Here is some sage goddess advice from Neg -
What does a typical tarot card reading consist of? Do you have a certain tarot reading style?
It depends on if I'm reading for myself or a client. When I read for myself, I do so in the morning while having my coffee, and I usually pull just one card for the day. After assessing my emotional state and doing an energetic "scan," I ask the tarot to tell me what I need to know in order to thrive based on my current state—or what I need to manifest or release in order to keep evolving into my highest self. Journaling about the card I pull is key because it opens me up to perceptions I may not have considered and helps affirm that which I know to be true in my soul. 
For clients, I do a 30 minute Skype call that's basically a deep dive into their current emotional and energetic state. But I don't just ask questions—I offer advice and counsel based on what comes up. Most of just want to be seen and heard, ya know? I do my best to hold that space for these phenomenal women. 
After our call, I pick out crystals based on the energy and vibration I want to bring to the reading. I cleanse the deck with sage and pull three cards for the client. My client readings might be mind/body/soul, past/present/future, manifest/release/surrender...it's truly dependent upon the energy of the call, and the seeker. 
I interpret the cards and email the client an entire write up of the reading, including pictures of crystals and cards. Doing virtual readings is a bit different than in person, but I've found intuitive ways to make it really effective for the client. 
How did you discover your gift of reading cards?
I've always been drawn to the tarot and all things metaphysical. Even as a kid, the occult fascinated and called to me. A few years ago, I picked up my first deck after feeling like I had kept some part of me suppressed for too long. 
Immediately I felt a connection to the cards and went on to read myriad books and articles. I'm still learning. Every day I learn and hone my intuition and my craft. But, I feel more ME than o have ever felt since committing to learning the tarot. 
Is there a particular or suggested way to ask questions before getting a card pulled or when you are pulling your own?
Every reader is different in how they go about the process of seeking. Personally, I like to talk things out and get a feel for what kind of energy needs to be manifested or released before pulling cards. I don't ask the seeker to bring specific questions rather to tell me where they're seeking clarity, guidance, healing, or ease. 
In general, you don't want to ask yes or no questions or anything that requires immense specificity.
The tarot is a divination tool for sure, but it doesn't tell the future or give exact answers. Instead, it provides a map for your internal landscape and invites you to consider varying perspectives.
How often would you suggest pulling cards? Can you ever pull too many?
If you're first starting out, keep it simple. One card a day is sufficient, three max. You don't have to pull every day, but if you're committed to learning, you'll want to read and study regularly. As your practice evolves, you'll know more intuitively when and how many to pull. 
Are you a fan of any deck in particular?
I almost always suggest beginners start with the traditional Rider-Waite deck . Its imagery is straightforward and steeped in symbolism that is easily interpreted. As you progress, look for a deck whose imagery speaks to you—the aesthetic is important. 
Every person will feel drawn to their own deck, so I recommend looking around and doing research. There are tons of tarot accounts on Instagram and independent artists creating beautiful decks. 
Any other additional suggestions for tarot newbies?
The tarot will help you navigate your intuition, but it helps to study from other readers throughout your own practice. I love "Learning the Tarot" by Joan Bunning, "Holistic Tarot" by Bennebel Wen, and "wtf is Tarot" by Bakara Wintner.
Use a journal JUST for your readings and write anything that comes up for you intuitively. Then reference these or any guidebooks for some universal and individual interpretations of the cards. 
The most important thing is to study. Don't just read the little guidebook that comes with your deck or copy what other people say. Read. Interpret. Get curious. Think of your tarot practice as a craft to hone, day after day. 
How do you incorporate wellness into your life? 
I read tarot and do yoga at home daily. I also lift weights at least 3x a week and spend a lot of time in nature. Movement, solitude, laughter, and nature are all very important to my overall wellness, spiritual growth, and mental health. 
Want more Goddess advice from Neg, sign up for her newsletter on her website because she will be launching a course soon called Magic Making 101! Want a tarot reading with Neg, sign up here!
Advice from a Goddess is a Sparkle Rock Pop blog series featuring powerhouse women who work in the health and wellness industry. I'm talking about Life Coaches, Reiki Healers, Meditation Teachers, Relationship & Dating Coaches, Tarot Readers, and so much more!  Click here to catch up on all of the amazing advice these Goddesses have dished out!
Leave a comment
Comments will be approved before showing up.