Carnelian Properties & Meaning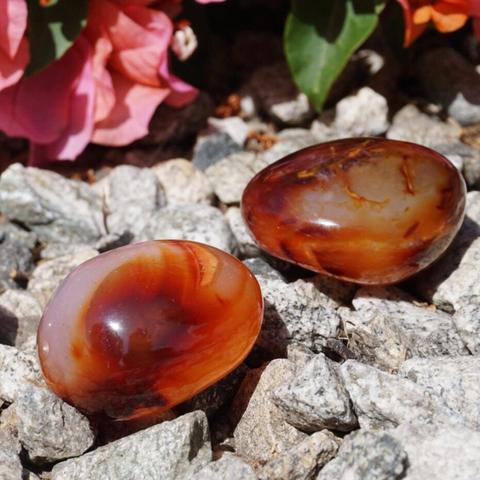 Introduction to Carnelian
Carnelian is a form of agate and chalcedony that ranges in color from pale orange to dark brownish-red. It originates from multiple countries, including Indonesia, Brazil, India, and Germany.
Carnelian was used in many ancient civilizations in decorative arts and jewelry. It was also used in some cultures to make seals since it doesn't stick to hot wax.  
Carnelian is a birthstone for multiple Zodiac signs. It boosts the innate creative strengths for those born under the signs of Cancer and Leo. Similarly, its creativity boosting powers enhance Gemini's abilities to quickly learn and apply new ideas to any situation. Scorpio's resourceful nature, combined with Carnelian's motivation to succeed, makes them a force in business.
Carnelian Meaning
Carnelian promotes positivity, self-empowerment, and embracing life. Use it to give you the courage to try new experiences and put yourself out there. 
It's also an excellent stone for anyone on a self-care journey as it is said to help with discovering hidden talents and awakening curiosity in those who carry it with them. 
Carnelian Properties
Due to its positive vibes and self-confidence enhancing properties, Carnelian is an excellent stone for work, self-discovery, and luck.
Bring it with you to work to increase your motivation and focus on achieving your goals. During big meetings and presentations, it will help you focus on what is going right, so you don't get nervous and derail your talking points.  
Actors and athletes get a boost from using Carnelian during tryouts and auditions.  It enhances their courage and ambition to succeed while also giving them a tiny lucky edge over the competition.
For those going off to college for the first time, Carnelian is excellent for a dorm room. Use it to drive self-empowerment and to embrace your new life. College is an exhilarating whirlwind experience, and this stone will give you the courage to live it fully!
See our collection of Carnelians!
Leave a comment
Comments will be approved before showing up.