How to Throw a Goddess Retreat - DIY Facial Bar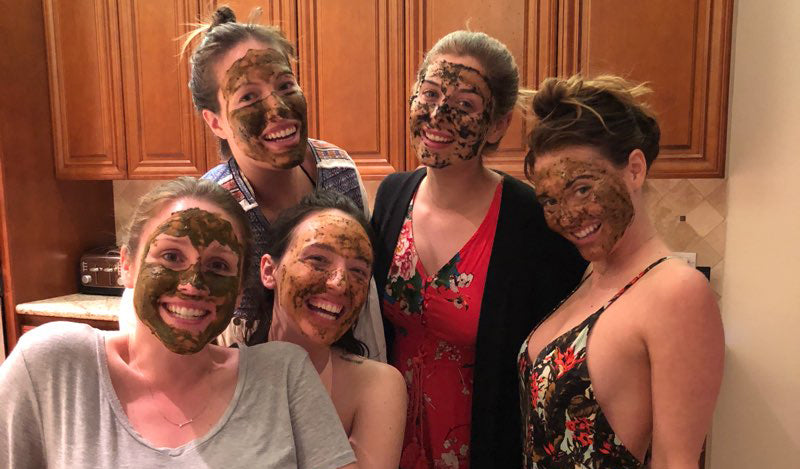 Hilary here! I am very passionate about taking care of my skin and probably do a face mask about three times a week, if not more. I usually make them from ingredients that anyone can pick up in a grocery store because I like to know exactly what I am putting on my face.
Every year for the Goddess Retreat, we are asked to bring something to contribute to the weekend, and I thought how fun it would be if I could share my love of making clean face masks! Pampering yourself and nourishing your skin to give it a heavenly glow just seemed like a MUST for a goddess weekend.
All ingredients included in the bar are easy to find at your local grocery store.
Facial Bases to Try
Facial Mud
pulls out toxins
rich in minerals that soften skin
exfoliates 
Matcha
calms the skin
draws out impurities
anti-aging
Coffee grounds
wakes up your skin
strong exfoliation
tightens pores
increases blood circulation
Facial Mix-In Options
Olive Oil
plumps skin
reduces fine lines and wrinkles
Lemon Juice
cleansing
good for treating dark spots
balances skin tone
Rose Water
balances the PH of the skin
hydrating 
anti-inflammatory
Coconut Oil
Moisturizes
anti-inflammatory
reduces redness
Turmeric
reduces inflammation
powerful antioxidant
diminishes damaged pores
Avocado
reduces fine lines and scarring
packed with vitamins for glowing skin
calms skin irritations and reduces acne
It's so fun to see the different combo that everyone comes up with! Enjoy!
PS~ If you are looking for a quick facial without the mixing, you can pick up our Aurora Sheet Mask! You'll be a glowing goddess in no time!
Want to throw your own Goddess Retreat? Read our full series for ideas on the Itinerary, Self-Care Activities, and Menu.
Leave a comment
Comments will be approved before showing up.